Announcements____________________________________________
Live Smart Fair 2019, Two Events: Bakersfield and Tehachapi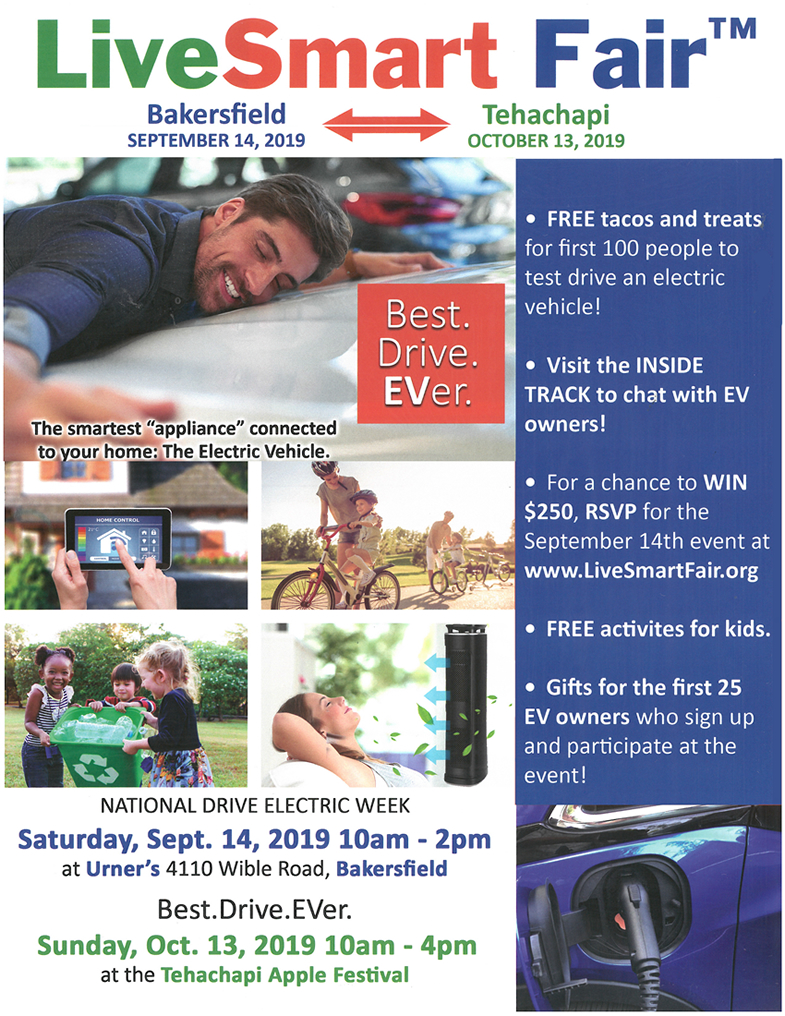 California Clean Air Day October 2, 2019
On October 2, 2019, you can join people and organizations across the state to take part in the second annual California Clean Air Day. Take the clean air pledge and start making a difference today. We might have the dirtiest air in the nation, but that doesn't mean we have to sit still and take it!
Piute Ponds Prescribed burn September 5, 2019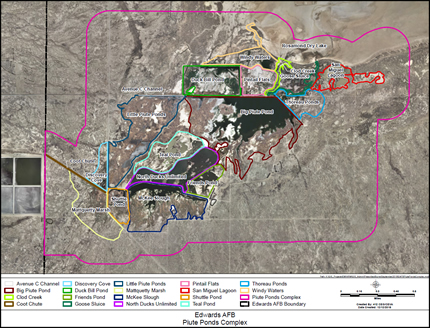 The Piute Ponds Prescribed burn ignition is scheduled for September 5, 2019. The smoke plume is expected to move through Edwards Air Force Base. Burning is planned to continue throughout the following week. Several units are part of the smoke plan. Plans are to ignite one unit per day in the morning, allow to burn down and mop-up prior to leaving the site. There should be minimal to no overnight smoke in the area.
Resources from the AF Wildland Fire Branch for support have been brought in from as far away as Alaska and Florida. This burn is also serving as a training burn for several wildland firefighters. A public briefing is scheduled for September 10th at 6:00am at Piute Ponds.
September 2019 Desert Breeze
September 2019, issue of the District's quarterly news letter "Desert Breeze" released 9/5/2019. Contact the District to have a copy mailed to you or click the link below to download a pdf copy. All back issues can be found by clicking here.
Click to download September 2019 Desert Breeze
EKAPCD 2018/2019 District Report
A message from the Air Pollution Control Officer: On behalf of the Eastern Kern Air Pollution Control District Board of Directors, it is my pleasure to present the Eastern Kern Air Pollution Control District 2018-2019 Report.
Click to download a copy of the Information Report.
DMV Grant Voucher Program
The District's 2019 DMV Grant Voucher Program offers financial incentive in the form of a voucher for the purchase of a new eligible lower-emitting vehicle.  Applications are processed first-come first-served and vouchers issued accordingly until funds are exhausted.  Voucher awards and associated new vehicle emission classification requirements are as follows:
•     $2,000 for purchase of a Partial Zero Emission Vehicle (PZEV) with an EPA Smog Score of 8 or 9.
•     $3,000 for purchase of a Zero Emission Vehicle (ZEV) with an EPA Smog Score of 10.
Click to Apply to the DMV Grant Voucher Program
If you are unable to download program guidelines/application, you can request a package be mailed to you by calling (661) 862-5250 or emailing ekapcd@kerncounty.com.
FARMER Tractor Replacement Program
In recognition of the need to reduce agricultural-related emissions, State Legislature allocated financial incentives for replacement of older agricultural harvesting equipment, heavy-duty haul trucks, agricultural pump engines, tractors, and other equipment used in agricultural operations.  To achieve this goal, the California Air Resources Board (CARB) developed the Funding Agricultural Reduction Measures for Emission Reductions (FARMER) program.
The District's FARMER program provides up to 80% funding for the replacement of diesel-fueled agricultural vehicles, equipment, and engines operating in Eastern Kern County.  Carl Moyer Program (CMP) guidelines are used to determine FARMER program eligibility and grant award amount.
Click Here for More Information
Wood Smoke Reduction Program Oversubscribed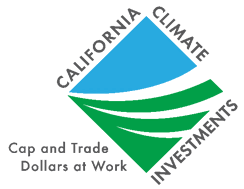 The District is currently out of Wood Smoke Reduction Program funds.  The Program offers rebate vouchers of up to $4,000 for replacement of a non-certified woodstove with an EPA-certified woodstove, or installation of a natural gas/propane insert in a fireplace used as the home's primary source of heat. The program will reinstate October 2019.
Click Here for More Information
AB 617 BARCT Expedited Implementation Schedule
The Eastern Kern Air Pollution Control District (District) adopted the AB 617 BARCT Expedited Implementation Schedule November 1, 2018, at a public meeting beginning 2 p.m. at the Tehachapi Police Department Community Room 220 West "C" Street, Tehachapi, CA. The AB 617 BARCT Expedited Implementation Schedule was adopted to comply with provisions of CH&SC §40920.6(c) (AB 617).
Click Here for a copy of the BARCT Implementation Schedule
Ozone Attainment Plan for District's Non-Attainment Area
The District's Board of Directors recently adopted a Reasonably Available Control Technology State Implementation Plan (RACT SIP) and Ozone Attainment Plan.
The RACT SIP was prepared to satisfy requirements of the Federal Clean Air Act (FCAA).  The FCAA requires ozone nonattainment areas to implement RACT for sources subject to control techniques guidelines (CTGs) issued by the Environmental Protection Agency (EPA), and for "major sources" of volatile organic compounds (VOCs) and oxides of nitrogen (NOx), which are ozone precursors.
The Ozone Attainment Plan presents the District's strategy (including related mandated elements) to attain the 2008, 8-hour Ozone National Ambient Air Quality Standards (NAAQS) by 2020, as required by FCAA.
Click the links below to download copies of each plan.
Ozone Attainment Plan (338 pages)
Commercial Solar Plant Permitting Requirements
The District has determined commercial solar power plants generate fugitive dust emissions (PM10) in Eastern Kern County.  Therefore, in accordance with Rule 201 (Permits Required) and 210.1 (New and Modified Stationary Source Review, NSR), the District is requiring each commercial solar facility obtain a District Air permit. 
Open Pile/Hazard Reduction Burn Season Closed 5/9/2019
On May 9, 2019, the Kern County Fire Department closed open pile/hazardous reduction burning within the State Responsibility Area (SRA). Open pile/hazardous reduction burning is still open within the rest of Eastern Kern. Be advised: You must acquire a burn permit from your local fire department and call them to ensure it is a designated burnday prior to ignition. Click for more info.
How Smoke Can Effect Your Health
Smoke is made up of a complex mixture of gases and fine particles produced when wood and other organic matter burns. The biggest health threat from smoke comes from fine particles. These microscopic particles can get into your eyes and respiratory system, where they can cause health problems such as burning eyes, runny nose, and illnesses such as bronchitis. Fine particles also can aggravate chronic heart and lung diseases and are even linked to premature deaths in people with these conditions.
People with asthma, heart disease, lung disease, older adults, and children are at greater risk of being affected by smoke. If you are healthy, you're usually not at a major risk from smoke but it's still a good idea to avoid breathing smoke if you can help it. It's important to limit your exposure to smoke, especially if you may be susceptible.
How to tell if smoke is affecting you:
Smoke can irritate the eyes and airways, causing coughing, a scratchy throat, irritated sinuses, headaches, stinging eyes or a runny nose. If you have heart or lung disease, smoke might make your symptoms worse. People with heart disease might experience chest pain, palpitations, shortness of breath, or fatigue. People with lung disease may not be able to breathe as deeply or as vigorously as usual, and they may experience symptoms such as coughing, phlegm, chest discomfort, wheezing and shortness of breath. When smoke levels are high enough, even healthy people may experience some of these symptoms.
Protect yourself:
Watch local news and weather stations, pay attention to health warning and air quality reports, you can also use the EPA's Air Quality Index (AQI). Use common sense; if it looks smoky outside, it's probably not a good time to mow the lawn, go for a run, or let children play outside.
If your advised to stay indoors take steps to keep indoor air as clean as possible. Keep windows and doors closed. Run an air conditioner if needed but make the fresh air intake is closed and the filter is clean. Do not use a swamp cooler as it will pull in lots of smoke from outside. If your house becomes to hot to be comfortable seek alternative shelter. If it is cool outside try to avoid anything that produces heat from burning such as a fireplace, gas logs, or a gas stove.
Click Here for More Information
Many Eastern Kern County residents
use woodstoves and fireplaces to heat
their homes.
If you burn please remember to do so
as cleanly as possible.

Never burn household waste in your
woodstove or fireplace and only burn
clean, dry, seasoned wood, and maintain
a hot fire.